Lotta integrata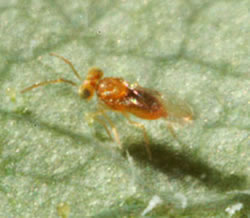 ERCAL
Eretmocerus eremicus
Unit of packaging
Eretmocerus eremicus (parasitic wasp)
Pack size: 10 cardboard strips each with 5 cards wrapped in a box
Contains: parasitized whitefly pupae, from which 3,000 parasitic wasps hatch
Target
Glasshouse whitefly (Trialeurodes vaporariorum) and tobacco whitefly (Bemisia tabaci) in the second and third larval stage.
Rate

ERCAL

rate

m²/unit

interval (days)

frequency

remark

preventive

1½-3m²

1000-2000

7-14

-

-

curative light

3-6/m²

500-1000

7

min. 3x

release until control is archieved

curative heavy

9/m²

330

7

min. 3x

release until control is archieved
Introduction
open package carefully inside the greenhouse
bend strips and tear off. Start tearing opposite hang-up hole
suspend the cards in the crop, if possible approximately 75 cm under plant head
not in direct sunlight
do not touch the pupae
Environmental conditions
Eretmocerus eremicus performs best at a 24 hour average greenhouse temperature greater than 20°C/68°F. However introductions can start at lower temperatures.
At higher temperatures (above 30°C/86°F) Eretmocerus eremicus stays active.
Storage and handling
storage after receipt: 1-2 days
storage temperature: 8-10°C/47-50°F
in the dark
Remarks
Eretmocerus eremicus is less susceptible to pesticides than Encarsia formosa.
Intensive deleafing (in tomatoes) hinders the population build up of whitefly parasites.
Appearance
Female adults: lemon-yellow
Male adults: brownish-yellow, thick antennae
Other stages: develop inside host
Mode of action
Female adult parasitic wasp parasitizes the larva of the whitefly. Host feeding also takes place.
Visual effect
After about 2 weeks, the first parasitized pupae can be seen in the crop. The parasitized whitefly pupa turns yellow in colour and is independent of species. The adult parasitic wasp emerges from the pupa through a round hole.
Important!
The introduction rates of this product should be adjusted to the mode of action of the product and the results that can be expected in the crop where the product is applied. Your local Koppert consultant or recognized distributor will be able to advise you further.
Only use products that are permitted in your country/state and crop. Check local registration requirements.
Koppert Biological Systems can not be held liable for unauthorized use.
Materiale concesso da KOPPERT