Lotta integrata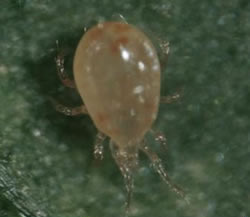 SWIRSKI-MITE
Amblyseius swirskii
Unit of packaging
Amblyseius swirskii (predatory mite)
Pack size: 500 ml bottle with dosage cap
Bottle contains: 50,000 predatory mites (nymphs and adults) mixed with bran.
Precautions
Inhalation of product may cause sensitization in case of mechanical application. Dust mask is recommended as protection for operator and people working near place of application.
Target
young larvae of various thrips species
eggs and larvae of whitefly (both Trialeurodes vaporariorum and Bemisia tabaci)
SWIRSKI-MITE can be used in a wide range of salad and ornamental crops, except tomatoes.
Rates

SWIRSKI-MITE

rate

m²/unit

interval (days)

frequency

remark

preventive

25/m²

2000

-

1x

-

curative light

50/m²

1000

-

1x

start when thrips or whitefly is present

curative heavy

100/m²

500

-

1x

infested areas only, always in combination with other beneficials
Introduction
turn and shake gently before use
press on centre of cap to open dosage hole
sprinkle material on leaves
make at least 4000 introduction points per hectare, evenly distributed over the total surface
Environmental conditions
The predatory mite Amblyseius swirskii is:
not susceptible to diapause, so can be introduced in winter
tolerant to high temperature
A. swirskii population starts to develop when daytemperature regularly exceeds 20-22°C
Storage and handling
storage after receipt: 1-2 days
storage temperature: 10-15°C/50-60°F
in the dark
provide ventilation to prevent CO2 accumulation
Remarks
Amblyseius swirskii can also develop on pollen of sweet pepper and aubergine
apply preventive introduction on pollen only from the moment when crop flowers continuously
Appearance
Mobile stages: beige-pink, droplet shaped, 'pushed down' position on short legs
Eggs: oblong, transparant white
All stages can be found in the corner of main vein and lateral veins and in the flowers.
It is not possible to distinguish Amblyseius swirskii in the field from Amblyseius cucumeris and Amblyseius californicus.
Mode of action
Adult predatory mites search for their prey or wait for it to pass by, then suck it dry.
Important!
The introduction rates of this product should be adjusted to the mode of action of the product and the results that can be expected in the crop where the product is applied. Your local Koppert consultant or recognized distributor will be able to advise you further.
Only use products that are permitted in your country/state and crop. Check local registration requirements.
Koppert Biological Systems can not be held liable for unauthorized use.
Materiale concesso da KOPPERT